Co Curricular Activities (CCA)
Co-Curricular Activities (CCA) is an important component of character education in Spectra Secondary School, and forms a part of the holistic, well-rounded education that we seek to provide our students.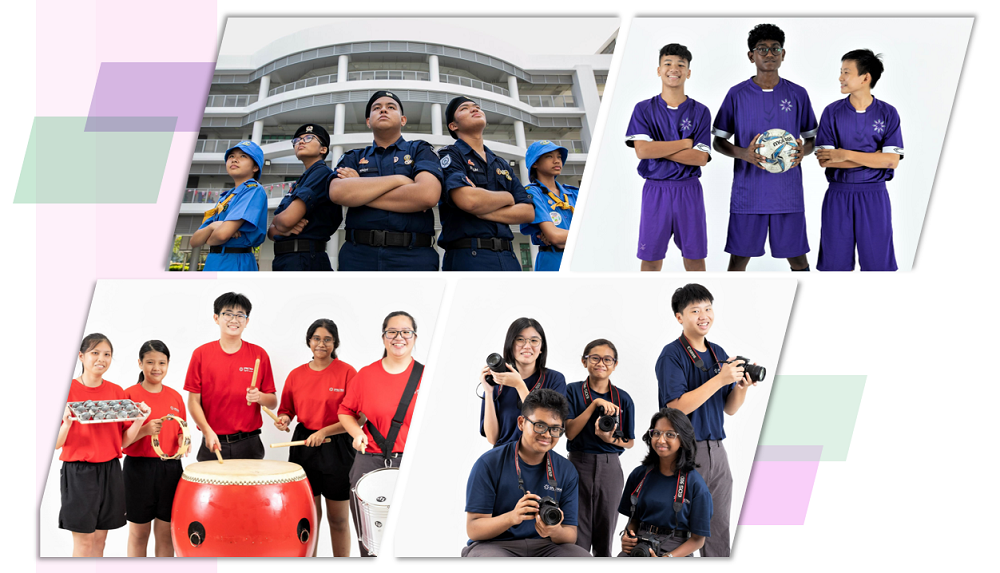 ---
Objectives of CCA
Opportunity to develop core attitudes, skills and knowledge (ASK) relative to their CCA, through authentic learning experiences.
Platform for students to learn about themselves and others beyond the classroom.
Platform to forge healthy friendships and team spirit.
Opportunity to develop leisure and lifetime interests.
By participating in a CCA, students will be able to:
Acquire new knowledge and talent areas.
Develop their leadership capacity.
Demonstrate school values and role model school outcomes.
Improve emotional and physical well being.
Learn valuable life skills.
---
CCA @ Spectra
Spectra offers CCAs from 4 different groups namely the Sports, Uniformed Groups, Performing Arts and Clubs & Societies.
| SPORTS | UNIFORMED GROUPS |
| --- | --- |
| Basketball (Boys) | Girl Guides |
| Floorball (Boys) | National Civil Defence Cadet Corps (NCDCC) |
| Football (Boys) | |
| Young Trekkers | |
| PERFORMING ARTS | CLUBS & SOCIETIES |
| Dance Club | Media Club |
| Music Club | Urban Farmers |
| | Young Artists |
| | Young Chefs |
| | Young Creators |
| | Young Engineers |
---