School Information
Spectra Secondary School is a specialized school for Normal Technical students. We admitted our first batch of Secondary One students in January 2014. We will provide a customized and practice-oriented curriculum to suit the learning needs of our students. We will also work closely with the Institute of Technical Education (ITE) and industry partners to develop programmes and attachment opportunities for our students.'Spectra' represents the school's philosophy of recognizing the different spectrum of talents and strengths of our students. The school aims to embrace and nurture our young in developing their strengths and instilling self-confidence in all.
Key Information
1. Non-Financial Information
Name of Organisation

Spectra Secondary School

Address

Tel No. 6466 0775




Fax No. 6462 3928


Email: spectra@schools.gov.sg
Website: https://www.spectra.edu.sg

Unique Entity Number (UEN)

201300697M

Date of Establishment

7 January 2013

Effective Date of Charity Status

7 January 2013

Effective Date of IPC Status

03 June 2022 to 02 June 2027

Objectives

The main objectives are to deliver a quality learning experience, with the support of stakeholders, to the students; to actively involve and positively challenge the students in their learning experience and process in a safe and caring learning environment; to build the students' confidence, competency and character so as to enable them to lead fulfilling lives; and to assist and prepare the students to graduate with NT Level and the ITE Skill Subject Certificates.

Number of Students Enrolment

783 students as at 1 July 2022

Board of Directors (current)
Mr. Tai Lee Siang
Mr. Anbarasu s/o Rajendran
Mr. Suresh Natarajan
Ms. Cindy Karim
Ms. Ivy Lai Keet Yee
Mr. Chua Boon Keat
Mr. Conceicao Nicholas Gerard
Mrs. Jalil-Ong Suat Eng
Mr. Anil Sachdev s/o Danesh Kumar
Mr. Chua Cheng You
Ms. Juliana Soh Kheng Mei
Mr. Lock Ka Fai
Ms. Sabrena Abdullah
Mr. Tan Soon Liang
Dr. Wu Huei Yaw

Auditor

PricewaterhouseCoopers LLP

(appointed for FY2021 onwards)
Ernst & Young LLP

(FY2016 to FY2020)

Corporate Secretary

Foo Soon Soo




Sapphira Low Bing Yoke
2. Financial Information
Statement of Comprehensive Income
Income

FYE2021 (S$'000)

FYE2022 (S$'000)

Increase/(Decrease)




%

Donations in Cash

87

76

-13%

Grants

20,219

20,884

3%

Others

408

357

-13%

Total Income
20,714
21,317
3%
Total Expenditure
15,626
17,687
13%
Surplus / (Deficit)
5,088
3,630
-29%
Statement of Financial Position
Asset

FYE2021 (S$'000)

FYE2022 (S$'000)

Increase/(Decrease)




%

Plant & Equipment

2,773

5,548

100%

Intangible Assets

11

5

-55%

Trade & Other receivables

317

158

-50%

Cash & cash equivalents

23,480

24,922

6%

Total Assets
26,581
30,633
15%

Long-Term Liabilities

375

610

63%

Current Liabilities

8,256

8,443

2%

Total Liabilities
8,631
9,053
5%

General Fund

17,566

21,196

21%

Other Funds

384

384

0%

Total Funds
17,950
21,580
20%
3. Data Protection Policy
Please refer to document for details: Personal Data Protection Guidelines
4. Whistle Blowing Policy
Please refer to document for details: Whistleblowing Policy
Financial Assistance Scheme (MOE FAS) Information
MINISTRY OF EDUCATION FINANCIAL ASSISTANCE SCHEME (MOE FAS)
The MOE Financial Assistance Scheme aims to help needy Singaporean students pay for essential school expenses. **With effect from January 2023, the income eligibility criteria will be: Gross Monthly Household Income (GHI) = $3000 or below** OR **Gross Monthly Household Per Capita Income (PCI) = $750 or below**.
The MOE FAS will provide a full waiver of school fees and standard miscellaneous fees. It will also provide free textbooks, free school attire, transport subsidy and meal subsidy.
To apply for the MOE FAS, please download the application form via this link > **[MOE FAS Application Form](/files/SS_FAS-Application-Form-2023.pdf)** or obtain a copy from the General Office. Please complete the application form and return it with supporting documents to the school.
The school will review your application and inform you of the outcome. If your application is approved before the end of the month, your child/ward will be placed on the MOE FAS in the following month. There will be no backdating of the effective month and retrospective subsidies provided in respect of expenditure on the MOE FAS provisions will be allowed.
If you have any enquiries, please contact the General Office at 64660775.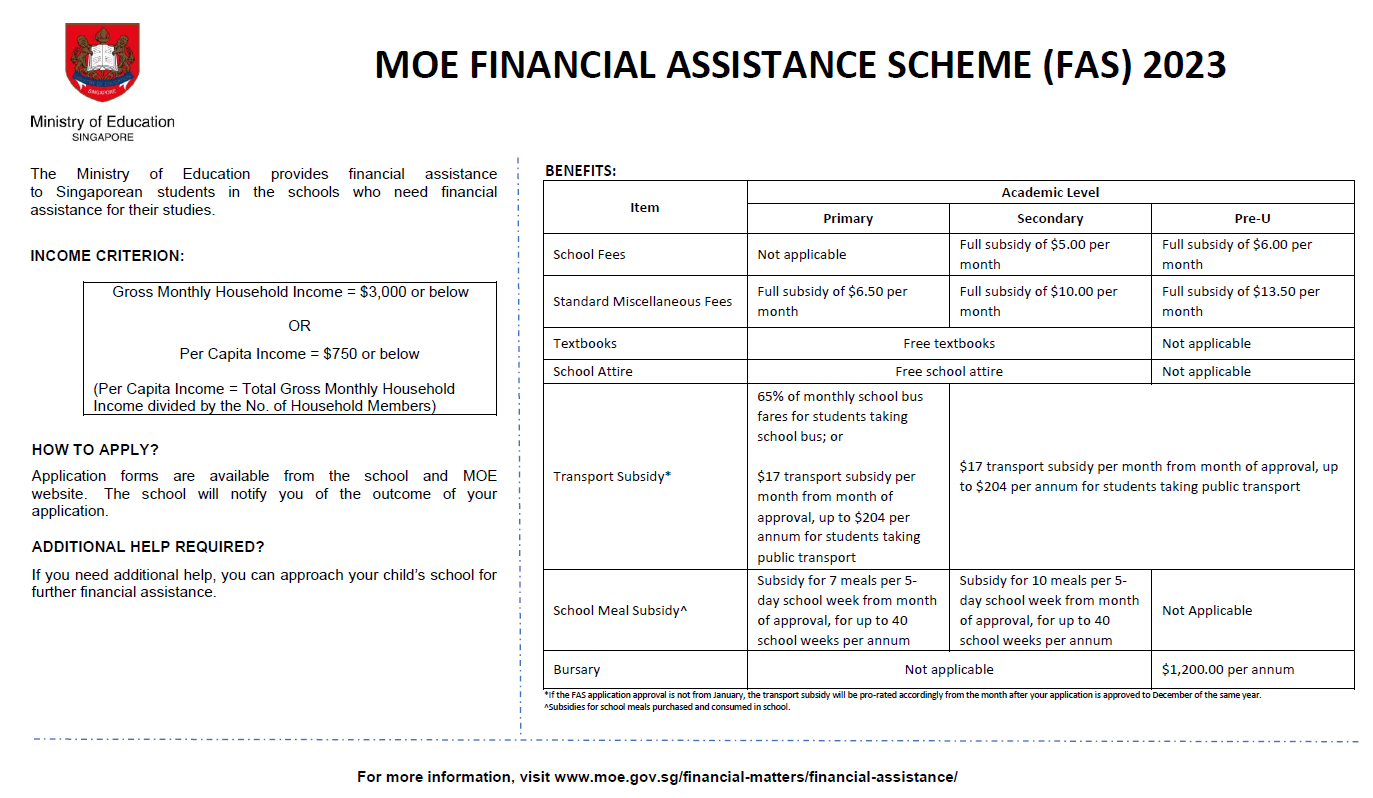 Helpline Information
Agency
Brief Programme Description
Hotline / Contact

Child Guidance Clinic

Any child or youth (up to age 19 years) with significant or severe emotional and behavioural problems.

6389 2000




6389 2222 (24 hrs)

Counselling and Care Centre

Anyone with psychological and behavioural issues.

6536 6366

Samaritans of Singapore (SOS)

Anyone in crisis or suicidal.

1800 221 4444 (24 hrs)

Singapore Association for Mental Health Helpline

Anyone with psychological, psychiatric, emotional or social issues.

1800 283 7019




Mon – Fri:




9:00 am – 6:00 pm

WINGS Counselling Centre

Any child or youth with psychological, behavioural, medical and psychiatric issues.

6383 5745




Mon – Thurs:




8:30 am – 5:30 pm

Touchline (TOUCH Youth Services)

For youth aged 12-19 who need someone to talk to.

1800 377 2252




Mon – Sat:




10:00 am – 10.00 pm
When in need of a listening ear or further help, call the school counsellor or visit the counselling room during school operating hours.